Wallace grew up on the family farm in Comrie, Perthshire.  He was educated at Morrison's Academy in Crieff, to then begin undergraduate study at Augusta State University in Georgia, USA. Wallace graduated with honours in Business Marketing.
In 2009, Wallace marked the beginning of his professional golfing career, following an already established amateur golfing career, which encompassed an impressive catalogue of achievements in 2008 and 2009.   Wallace's progress however, was temporarily disrupted by a left shoulder injury in 2010 to 2011, from which he made a full recovery.   Following the injury, Wallace then struck back and won on the EuroPro tour at Mar Hall Scottish classic in 2012 and secured his European challenge tour card for 2013.  Full playing rights were obtained on the challenge tour in 2013, 2014 and 2015 consecutively.
Due to personal loss, Wallace struggled to meet his expectations for the most part of 2015 and 2016. He felt like he had turned the corner during the winter of 2016 and he was proven right when he picked up his first win in five years in Portugal at the end of January 2017.
At the end of 2017 he had to have his left shoulder re-operated on. This left him out of golf for all of 2018 and most of 2019 but turning a negative into a positive, he took the opportunity to become the Head Professional at Pitlochry Golf Course, running the pro shop and carrying out all the coaching from April 2018 to April 2019. He is continuing to coach at Noah's Ark Golf Centre in Perth, along with trying to get back to full time competitive golf.
Wallace's love of sport also runs profoundly through the Booth family.  His father competed at wrestling during the 1966 Commonwealth games, winning a silver medal - a sport Wallace also has competed in winning the title of 'The Aspull International U18's Open in 2002. His mother was also very sporty and a very good netball player. His sister Carly is also a professional golfer on the ladies European tour and his brother Paul represented Great Britain at powerlifting during the Special Olympics held in Los Angeles, 2015.
Wallace Booth is proudly supported by a team of professional to support and advance his career
VSP works with individuals, groups, educational establishments and professional sportsmen and women to promote good mental health practice throughout the whole of Scotland.
Stuart Barton is one of the world's top physiotherapists. He has practices in Fife and Edinburgh, was for 12 years the physio for the Scotland rugby team, helped rehabilitate hundreds of players, and was in attendance for a record 101 international Test matches.
Discover what the pro's play with!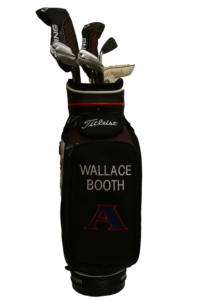 A
PING G410 LST 10.5 degree Driver with a Graphite Design Tour AS DI 6X shaft (set to -1 degree loft and flat)
B
PING G410 14.5 degree 3 Wood with a Project X Hand Crafted Prototype HZRDUS 76g Low Spin
C
PING G410 3 Crossover 20 degree with a PING 85 X Shaft (Red Dot)
D
PING iBlade 4-9 irons True Temper Dynamic Gold X100 shafts (Red Dot)
E
Titleist VOKEY SM6 46.08 F wedge with True Temper Dynamic Gold X100 shaft
G
Bettinardi Queen B #9 Putter (34 Inches)
PROFESSIONAL ACHIEVEMENTS
Won Penina Classic 2 on Algarve Pro Tour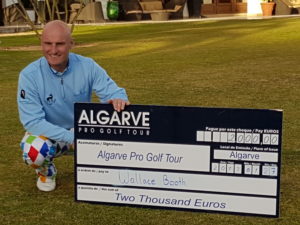 2nd EuroPro Sponsorship Tournament
7th EuroPro - Caversham Heath
10th First Stage European Q School
13th Ecco Winter Series Championship
63 (-8) in 1st round Austrian Challenge
64th - Challenge Tour Order of Merit, obtaining full card for 2015
4th Norwegian Challenge, Challenge Tour
7th - Austrian Challenge, Challenge Tour
6th - Ecco Winter Series Championship
Competitor - Final Stage, Open Championship qualifying
T1st - Kenya Challenge Pro-Am, Challenge Tour
Winner - Mauritius Pro-Am 2014, Standard Bank Mauritius Open
T12th - Belgian Challenge, Challenge Tour
12th - Swiss Challenge, Challenge Tour
5th - EuroPro order of Merit, gaining Challenge Tour card for 2013
Winner - Marhall.com Scottish Classic Open, EuroPro Tour
Runner-up (Play-Off) - Kingspan Concra Wood Open, EuroPro Tour


Obtained EuroPro Tour Card
Winner - First Stage European Tour School, Dundonald
First European Tour Event as a Professional, Alfred Dunhill Links - made cut
5th - The Party Poker International Open, Fairmont St Andrews
Great Britain & Ireland Team Member - The Walker Cup, Merion GC, USA
Winner European Team Championship with Scotland
Runner up - Irish Amateur
3rd Lytham Trophy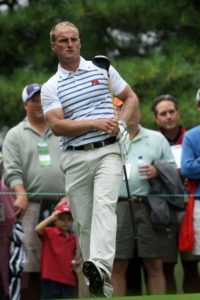 Walker Cup
Winner - Scottish Amateur Stroke play Championship
Winner - Individual qualifying, European Team Championship
Winner - Eisenhower Trophy (World Team Championship) and 4th individually
Team of the Year Award for the Sunday Mail, Sports Scotland Awards
Team top scorer (100% record) for GB&I - St Andrews Trophy, Kingsbarns
Winner - European cup nationals, 4 Man Scotland Team and 9th Individually
Winners - European Team, Sir Michael Bonallack Trophy (won 3 from 4 points)
Runner Up - Sutherland Chalice (SGU 72-Hole Open)
Runner Up (play-off, 2nd extra hole) - Leven Gold Medal, (SGU 72-hole open)
Competitor - Final Stage, Open Championship Qualifying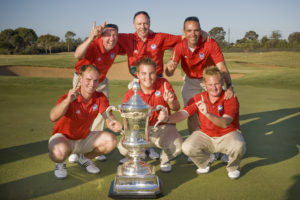 World Team Champs (Eisenhower Win)